About Scottish Country Dancing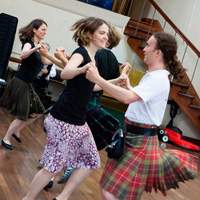 Scottish country dancing, which is what this website is all about, is based on the traditional dance-form of eighteenth century Scotland. This underwent a major revival in the 1920s and has since gained enormously in popularity and not just in Scotland, but spreading to most countries of the world. New Zealand is no exception, partly due to the influx of Scottish immigrants, and clubs are to be found from Kaitaia in the North to Invercargill in the South.
The dances themselves are usually performed in sets of three, four or five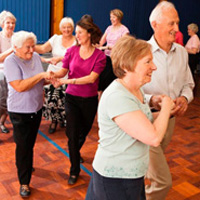 couples and, unlike the more informal ceilidh dancing, the emphasis is on elegance, the particular steps that we use and the formations that go to make up a dance.
All our clubs run weekly classes where newcomers are taught the basics and 'old hands' have the opportunity to learn new dances. However, the essence of Scottish country dancing is FUN and we try to make sure that everyone, beginners to advanced, discovers the enjoyment to be had from an evening of dancing with like-minded friends.
So what do we do? Well, the weekly classes are just the start of it. Dances are held throughout the year, from informal tea-dances to formal balls where we regularly meet up with other dancers throughout New Zealand. There are also opportunities for further tuition at day-schools, weekend-schools and even our annual Summer School which is held over New Year.